Kate is a 25-year-old fashion, beauty, and lifestyle content creator @ultrasophisticate. She is based in London and spends a lot of time in Paris. She loves keeping her style sophisticated and feminine, with a high-end and luxurious feel.
She graduated from University College London (UCL) with an MSci in Biological Sciences. However, her huge passion in life is for social media and all things luxury! During her degree she set up her fashion blog and instagram as her creative outlet, who knew science and fashion would work so well together?!
After almost 6 years she has had incredible opportunities and she regularly works with high-end and luxury brands such as Rolls Royce, Audi, Elie Saab, Charlotte Tilbury, Balmain Hair, Chopard Fragrances, Farfetch and 5 star hotels in London. She is highly focused and thrives on a challenge and making something a success.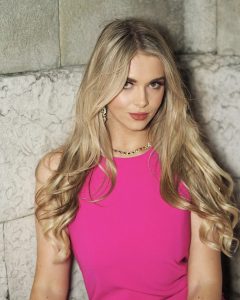 Be authentic and your true self!

– Kate Yuille
 Can you tell us about your journey from studying Biological Sciences to becoming a fashion, beauty, and lifestyle content creator?
I always dreamt of being a fashion influencer, I have always loved clothes and fashion and
followed content creators on instagram years ago, one which I remember following was
Leonie Hanne who I still admire today. I studied Biological Sciences at University College
London (UCL) however my passion for fashion was always lying beneath the surface.
During my second year of university exams I created my instagram account and blog
Ultrasophisticate as an outlet to share my daily outfits and this is where it all began. It was
a creative space for me and a community which I loved as a hobby, my account started
growing rapidly and I then began to push my content. Being based in London for university,
meant I could now take my content with some iconic landmarks and cute cafes and from
there I was doing my degree alongside my content creation. Now I am able to work with
brands regularly and travel between London and Paris to shoot my content, this was
always such a dream for me when I began my account.
How did you discover your passion for social media and luxury fashion?
I have always loved luxury fashion from a timeless viewpoint. The way the fabric is cut and tailored the stunning styles such as Saint Laurent and Valentino. I was investing in preloved designer clothes and bags when I was a student and saw these pieces as investments. Preloved was a way of affording more High End pieces and being financially savvy whilst also being more sustainable. I do buy new designer items as well but I always think carefully about the choices I make when it comes to cost per wear rather than buying into trend pieces. I love a bit of bling too, who doesn't! Showcasing these beautiful pieces on Social media and how to style pieces in many ways is something I enjoy. Through social media you can also see how someone else styles a particular bag color or jacket and from that we can experiment to enjoy luxury pieces in many different outfits and styles.
What inspired you to start your blog and Instagram account, UltraSophisticate?
(Similar to my answer in question 1). I always loved fashion and clothes and followed other content creators and influencers for several years. I wanted to also be able to share my daily outfits and inspire my followers with my girly and feminine style. I often take inspiration from outfits I see on the catwalk and social media and so I wanted to be able to provide this to others. I absolutely love engaging with the community of other content creators and followers, my favorite thing is seeing my followers wearing an outfit inspired by one of my looks.
How do you balance your work as a content creator and running a social media and marketing agency?
Right now both my content creator account and social media agency are growing rapidly (which I am very grateful for!) so it all takes very good organization and planning. I usually do 1-2 shoot days a week and attend several launch events and dinners whilst also attending client meetings and scheduling work – it just takes a very good diary! The agency is also expanding soon in a few ways so will be hiring more help!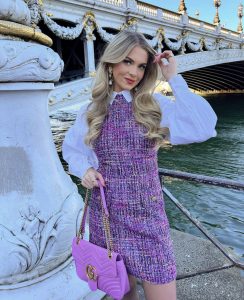 Can you share with us some of the high-end and luxury brands you have worked
with, and what the collaborations involved?
Working and collaborating with high-end and luxury brands will always be a dream come true and are 'pinch me' moments when I see those emails in my inbox! I have been very fortunate to work with so many brands over the past 6 years but several really stand out. Working with Balmain Hair Couture for a few years creating content for their new launches and attending Paris Fashion Week and the Balmain show last October. Afternoon tea and a day being chauffeured with Rolls- Royce was probably the most luxurious day of my life! Attending The Olivier Awards with Audi was also an experience I will never forget. For beauty, I have created content for fragrances from brands such as Chopard, Elie Saab and YSL and makeup from Charlotte Tilbury, Nars. As well as online luxury stores such as Farfetch and multiple preloved designer stores.
How do you approach styling mid-price point and preloved designer items in a
premium way?
I also love styling high street and mid-price point brands in a premium way mixing these with designer pieces. If you know current season trends you can often find similar styles within mid-price point stores, for example bright fuchsia was in every store after being popular on the runway last year. The key is finding clothes with a timeless and luxurious feel and styling them well together in an expensive looking way (tailored looks is the easiest for this!). For years on my instagram I have mixed in pieces from Zara or And Other Stories combining them with a designer handbag or scarf to elevate the look. For example, mixing in a mid-price purple satin blouse with a black tailored blazer finished by adding a Chanel bag. Another small tip is looking at metal tones, I love gold hardware and jewellery, and i find this can often make an outfit look more expensive. Choosing a blazer which has gold buttons which ties in with a pair of gold chunky earrings and the gold hardware on your bag can instantly make an outfit chic.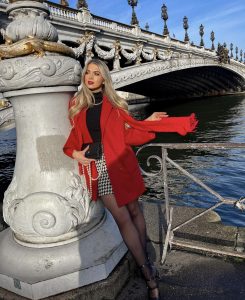 What are your top tips for building a successful personal brand on social media?
Building a personal brand starts by finding a niche or niches which your style and content leans more towards. My biggest tip is to be consistent both in your content style but also in how often you post and interact, as a new follower it needs to be clear what your style is and what sort of content they will see. For some people this will be super chatty stories and reels and for others a more minimalistic aesthetic style content.
Most importantly, be authentic and your true self as people want to know you and engage with your personality. Try to answer every DM and comment individually, if people are taking the time to comment and message then it is important to reply to build a community. Plus enjoy it because it brings so many new people into your life and so many opportunities and this passion will shine through.
How do you stay up-to-date with the latest fashion and beauty trends?
Mainly through (of course) instagram and my favourite content creator accounts! I am loving the FYP suggested posts on instagram at the moment as it is introducing me to new creators and trends. I also still love a magazine and subscribe to Vogue every month, nothing compares to an afternoon looking creating a dream wish list of trending pieces from Vogue!
Can you tell us about your experience attending fashion events such as LFW and
PFW?
Wow, where do I even start! Attending Fashion Weeks is always a highlight of my career, the buzz and passion you feel at these events is incredible. I have been going to a few shows at LFW for several years but it was my first time going to PFW last October and I went again in February this year. The Balmain show last year was unbelievable to see in person with Olivier Rousteing also bringing Cher onto the runway! Seeing full collections on the runway shows is so different to exploring collections online or in the store, you see the storyline the designer wants to tell. The atmosphere from everyone attending is always so exciting, there is a lot of anticipation and also A LOT of stunning and creative outfits packed full of drama. Social media is also full of incredible style around the fashion weeks with creators posting their GRWM and full glam looks, it is honestly my favourite months for fashion and content creation. Planning my looks for LFW and PFW is something I look forward to doing again soon…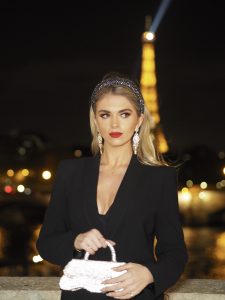 How do you use your social media and marketing knowledge to help small businessn owners and content creators grow their brand's online presence?
Having grown my own account over the past 6 years and always keeping up to date on the latest instagram trends and new features I am able to provide this knowledge to my social media clients. Now having worked with many different sector businesses on social media and marketing knowing how each sector approaches social media is important and being able to create a strategy for growth and sales is vital, social media is a game changer for businesses when they are using it effectively. I am so excited for my online courses for small business owners and content creators to launch soon where I will be sharing all my knowledge!
What are some challenges you have faced in your career, and how did you
overcome them?
I do think the work/life balance can sometimes become a challenge as social media never sleeps and I love to be able to share my days out, my holidays, restaurants and because of this you never truly get to switch off, but that is why it is important you love what you do because I wouldn't change this for the world!
What are your future plans for UltraSophisticate and your social media and
marketing agency?
This summer I have a lot of travel planned to Italy, South of France, Paris etc. so I can't wait to plan more summer looks and continue to grow my account and work with more brands. I always set myself goals and dream brands to work with so hopefully I will achieve a few more of these this year! My biggest goal is my own collection with a brand or a fashion line so we will have to see what happens… My agency is also growing with training courses for small businesses and influencers launching very soon called Socially Leading to teach all my social media knowledge to others, and with more clients on the way My Luxe Digital will also be expanding into PR Soon.
What advice would you give to someone who wants to pursue a career in fashion,
beauty, and lifestyle content creation?
This is a question I am often asked and I always say to go for it and start today! I have seen the argument it is 'too late' to begin now or that there are 'too many' content creators but that is completely not true! If you have passion then that will shine through and your style and content will attract an audience.