It is not how much we have, but how much we enjoy, that makes happiness.
"You can absolutely improve your happiness level—as long as you're willing to put the effort into it," she says. "If you constantly remind yourself to do little things, like look at the bright side of life, eventually those habits will become engrained."
Even better: By adding more joy to your daily routine, you may also enhance your overall well-being. "Happiness has two components," Lyubomirsky says. "The first is life satisfaction, which is that sense that your life is going well. The second is the experience of frequent positive emotions, which include pride, curiosity, enthusiasm, tranquility, and joy."
 Sonja Lyubomirsky, PhD, professor of psychology at the University of California, Riverside.
Here are some ways that can help you find more joy in your everyday routine: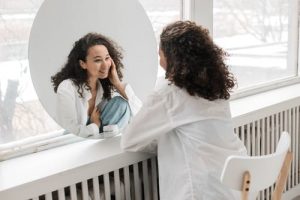 Change the way you look at negativity 
"I find joy each day in perspective. When something goes 'wrong,' I remember that if a door closes, it simply wasn't my door to walk through. When I get rejected, I see it as redirection.  Instead of trying to prove myself, I try to improve myself. If I fail at something, I take note of what I learned. The story in our head is everything. We become what we believe. And I believe that joy can be found in silver linings. Once we know where to look, we'll serendipitously see more joy than ever before."
—Siobhan Kukolic, author, inspirational speaker, and life coach, Toronto, ON, Canada
Workout more, it can strengthens your physical and mental well-being 
"My pilates practice is my joy time each day. It gives me a chance to truly unplug for an hour, and focus on my mind-body connection. The studio I practice at has a wonderful sense of community. Having people who are supportive of me and whom I can provide support and encouragement to deepens that sense of joy!"
—Cindy J., nonprofit executive search and HR consultant, Boston, MA
Try something new 
"There's a true power in novelty — in doing, trying, or experiencing something new. Our brains are automatically excited by the thrill, the exhilaration, the slightly scary — but in the best possible way — the curiosity, and the delicious passion that comes from trying, doing, experiencing, and tasting something new, or even the same old thing in a different way. All it takes is one tweak, step, or shift. That's all we need to reignite and excite our brains, and to find and spread joy, every single day." 
—Rachel Ellner Lebensohn, creator and founder,  Delray Beach, FL
Taking Plenty of Time for Reflection
It's the thing we never have time for, isn't it? Maybe just a six-minute lie down at the end of a yoga class or the few minutes before you fall asleep at the end of the day? We are a nation of do-ers not reflectors, and when we do it, we usually do it accidentally!
For many people, their accidental reflection time comes when they are moving – commuting on the bus, driving the kids to school, walking to the shops. Without this accidental reflection time, we might start to feel pent up, full of thought.
This is the perfect time to practise some intentional reflection. There is a simple joy to be found in slowing your mind, recording your thoughts, taking some deep breaths, meditating, praying – they are all variations on the same theme: take joy in simply being. Build this time into your daily routine to care for your mind.
Spread kindness today!
Acts of kindness don't have to cost a penny. In this blog, Haala shares some ideas on how you can spread kindness.
Kindness is – and always will be – one of the most beautiful and powerful forces for good that exists in the entire world. Why? Because kindness is love!
Love is the invisible thread that appears through acts of kindness. It exists as heartfelt words of encouragement, thoughtful gestures, and compassionate acts of generosity many of us witness, perform and receive as we move through life. In a world filled with struggle and pain, kindness is like a deep cleansing breath that rejuvenates us with its purity, refreshes us with its goodness and gives us the strength to persevere despite our troubles.
The COVID-19 pandemic is causing fear and panic but it is also inspiring beautiful acts of kindness around the world. During this crisis people have delivered free groceries, paused rent for tenants and called to check in on seniors.
Though kindness is free, the world is still in dire need of it. Choose to be good to people without expecting anything in return. If you don't know where to start, here are some random acts kindness you could try:
If you know anyone who is unwell, take five minutes to send a get well soon card. It will lift their spirits.

Cook an extra portion of dinner for someone who needs it.

Say thank you to someone who made a difference to you.

Sometimes we shy away from people when we know they are having a rough time. We assume we should wait for them to approach us, so we are not intruding. Instead, ask them how they are doing. Many people will be relieved to have someone to talk to. If you don't ask they might never mention anything to you.

Do something special that you know a loved one will appreciate. You could surprise those who care for you by baking a cake or helping them with household chores.

Donate things you no longer need instead of saving them in case you need them in the future. There are people who may need it now.

Don't ignore the next homeless person you see. Ask if you can buy them food or a drink.

Call a friend, family member, or neighbour who may be lonely.

If you can, donate a small sum of money to a charity you love.
This start of your University year, let those around you know how much you care! Seek out an opportunity to help every day. Every small interaction with someone is an opportunity to have a positive impact on their life and yours. When you look, you'll find opportunities to perform random acts of kindness. When you take those opportunities to perform acts of kindness, you'll feel great.
Written by Haala H.