Starting a business can be a rewarding opportunity as a parent. If you have a disability,
though, you may have extra obstacles to overcome. However, that doesn't make business
ownership impossible. With a few tips, you can launch a business with the potential for
success, no matter your situation.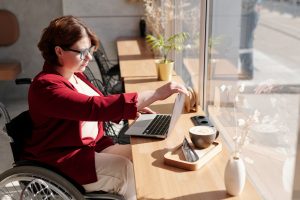 Establish Your Financial Needs
When you first begin your business, know how much money you have to invest and how
much you need. Look into the different options for finding funding, such as grants and
loans. For example, you can search for government-backed grants to assist. You may even
find options exclusively for people with disabilities starting a business. In addition, banks
and various charities can provide you with loan options.
There's also the option of investor money. With this option, you have people who provide you with funds to start your business. Often, you give them a share of the profits in return. These individuals could be friends, family, or business tycoons. You can find listings or post them online to search for prospective investors.
Hire Help for What You Can't Do
Establish a list of every task that needs to be done in your business. Highlight the duties
that must be executed by you. Then, look at what's left on the list. Think of how many
individuals you'll need to accomplish these tasks. Consider if they require a full-time staff
member or if you can hire a freelancer who can work occasionally or for a short period to
complete the responsibilities.
As you're figuring out your staffing, make sure you keep in mind your disability. While you ideally may want to handle most tasks yourself, the book work might not be suited for you
if you have ADHD and can't easily focus on this task. This means you'll need to find a
bookkeeper. If you physically can't move boxes and other items, you may need an
individual to maintain inventory and keep the storeroom organized.
Use Software to Make Management Easier 
As a parent, business owner, and someone who may need to contend with a great deal to
overcome your disability, make managing your company as easy for you as possible by
using a software program. Fortunately, you may find software that allows you to easily
organize and store receipts to make filing your taxes simpler. And you'll have everythingbyou need at hand if you should happen to get audited. Choose accounting software that lets you view your cash flow and know your largest expenses and where most of your profit comes from, which, in turn, allows you to easily budget and make business-related decisions.
Understand Your Market 
Before you get into managing your business, know your target market. Understand who
they are and what most benefits them. You can then craft a marketing plan that specifically
targets this demographic. With so much riding on business success, this can give you peace
of mind that your business will be successful and your children will be taken care of.
Overcome Everything by Having a Plan 
You can overcome being a disabled parent who's opening a business by having a plan and
knowing a few tips.
Visit Wonder Woman Magazine for more business advice.
Article by: Ed Carter (ablefutures.org)