If there's anything the last few years have taught us, it's that we can work remotely. With that in mind, I want to explore this conversation with you further and show you how you can start turning your passions into profits from the comfort of your home. Especially if you are currently unfulfilled in your career or if you are just looking to bring in additional income this article is going to be beneficial for you. As a business coach, I specialize in helping women create and sell offers through social media. I am on a mission to help more women experience making money doing work they truly enjoy.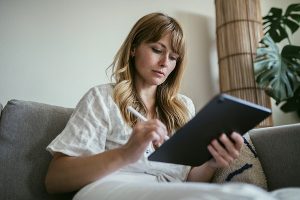 I started an online coaching business based on something I was passionate about, money. In my free time I was studying all things money. Taking courses, reading books, hiring mentors, and using myself as a test subject. Once I started to feel more confident in that area, I created offers that helped others and quickly realized how easy it was to make money from the comfort of my home.
You might be thinking this is too good to be true or this woman is crazy. Here's what I want to share with you. I tried the traditional route. I got my bachelor's degree in psychology and even went on to get my master's degree in marriage and family therapy so that I could become a therapist. You know what happened? I realized I didn't like working for someone else. My paychecks were less than ideal, and I was burned out. In short, I was miserable. I knew I had to figure out a different way to make a living because being a therapist was not going to work long-term.
Thankfully I discovered coaching, and I knew that was the answer to my prayers. I started my coaching business working from home and utilizing social media. My business has generated 6 figures while helping other women do the same. It's a dream come true to work from home, get paid well, and enjoy the work I am doing.
I'm here to share how you can do this too!
Step 1 
Take a moment to reflect.
What is it that you're passionate about?
What do you find yourself doing consistently because it interests you or you enjoying doing it?
In the example I previously mentioned it was money mindset. I wanted to figure out how to crackthe code to increasing my income. However, it can be anything. To help expand your horizons I will share that there are offers on topics such as makeup, public relations, taxes, trauma, cooking, dating, gardening, fashion, business and so many more. So the sky is the limit on what you can monetize.
Once you've got your topic in mind we can move to the next step.
Step 2
Let's get specific on what you're offering. 
Who are you wanting to help?
What are you wanting to help them with?
How are you wanting to help them?
Ex: I help women make more money, by creating and selling offers on social media.
Your turn!
I help _____
What do I help them with_______?
How do I help them accomplish that _____?
When you put it all together this is your power statement.
Step 3
Now it's time to create and package up your offer. This will differ based on each person and admittedly is the most time-consuming step of them all. Once you have done the process and get a feel for how it works, you will be able to rinse and repeat with multiple offers if you're the type of woman who enjoys having money flowing to you consistently.
I would recommend considering the following:
Naming your offer (Ex: Money Course for Millennials)
Pricing your offer (this will largely depend on how you're delivering the offer. Are you meeting with someone one on one, are you creating multiple pre-recorded videos, are you creating one pre-recorded video, are you doing a live training where multiple people can attend etc.)?
Deciding how you will take payments? There are lots of options for this. PayPal, Stripe,
QuickBooks etc.
Will you have a sales page, website, or shopping cart?
Will you create visually appealing graphics? This can be done in Canva and can be used on social media as well as on sales pages, websites etc.
How will you deliver the offer? In other words, how will they receive the information from you?
Here's a couple of pro tips when it comes to creating your offer.
Do a brain dump. Write down all the content/topics you want to share/teach within your offer.
Then you can group the content/topics into chronological order. What will they need to do first, second, third, and so on in order to get a result? This makes it easier for the person purchasing from you.
I know this is a lot. To put it simply, you need a clear offer, a way to share it with people, a way to receive payments, and of course making sure your clients receive what they paid for.
Step 4 
Now that you've got an amazing offer it's time to share it with the world. Choose your favorite social media platform (Facebook, Instagram, LinkedIn etc.) and you can begin sharing what you have, and who it's for.
Bonus tip- speak to what's in it for them! 
For example- I've got a money mindset course for millennial women that will help you increase your income in 90 days!
This shares what is in it for them. If they choose to purchase, they will learn how to increase their income.
I recommend brainstorming topics and tips you can share with your audience that allows you to be seen as an authority in your topic. You can take these straight from your brain dump that you did in step 3. I'm all about working smarter not harder.
Practice using different types of content. Written posts, vs videos (live or pre-recorded), reels, stories (applicable to Facebook and Instagram) and include pictures when using written posts.
The best thing to do is show up and share what you have! I often say that selling = serving. If you're willing to share your top secrets and tips that will help someone else, you're saving them time, money, and possibly even their sanity. It's a win/win situation.
Step 5 
Know that you can earn while you learn. You don't have to be perfect in order to start.
The word FAIL means first attempt in learning. Each time you try something you're going to gain feedback which will ultimately give you clarity to move forward.
There you have it. You can turn your passion into profits in as little as 5 steps! If this feels
overwhelming, take it step by step. Start by figuring out what you're passionate about. If this doesn't come to you immediately, no need to worry. Start becoming aware of what you're drawn to. What books are you reading? What podcasts are you listening to? What television shows are you watching? How are you spending your free time outside of work? These are all indicators of topics you could turn into paid offers for others.
I hope this article has been helpful for you. If you're unhappy with your current career and
looking for alternative options or if you're just looking to bring in some additional revenue turning your passion into profits could be the solution you've been looking for.
Of course, there are more official and legal things that should be done in order to legitimize your business. However, I want you in the mindset of seeing how doable this is before you get bogged down in the logistics which can feel daunting and thus deter you from getting started.
If you desire more support, I have a self-study course that takes you through this process step by step including the legal things that should be in place. I also offer private coaching if this is something you would like custom support with. I truly love helping other women make money doing work they love!
You can connect with me at https://coachamymcnally.com/
BY: Amy McNally