On The Hunt For A New Job? Here Are The 5 Red Flags You Need To Look Out For In A Job Advert.
With the pandemic, many of us are looking for work or to shift roles after working in jobs that are no longer needed or able to stay financially viable in the current climate. Statistics have already indicated we are not even seeing the worst yet, and there have been claims that women will be the most affected by layoffs, lack of financial support and are in the roles hardest hit by the corona virus pandemic.
As a receptionist for a tourism company that heavily relies on international tourism, I am one of these women feeling the impact. I applied for one job recently and when the job closed, I received an email saying there were over 340 other applicants. Another issue that I am mindful of, is I have worked almost every company for about two years, and as a result, my next move needs to be a long term position. However after working for two different workplaces that could have been scripted by the producers of 'The Devil Wears Prada' and 'Horrible Bosses', I am very picky with who I will decide to work for.
As I finally try to claw myself out of my final job in the receptionist industry (I have been a receptionist for 10 years now, and I can assure you we are no longer the coffee making phone message taking secretary of the 1950's) I would like to impart some advice I wish I had known years ago when I was starting out. I'll start out by providing insider knowledge on what to avoid for ANYONE in any industry or job when they are hunting for a new employer.
You see the thing about receptionists is we see the nitty gritty undersides of the business a lot of the other employees in the company won't always get access to.
The following tips are things I wish I had known over 10 years ago, and I am applying them to every job application I look at. My hope is that if you can find one of these tips helpful, you can help empower yourself to find a workplace that really does support you and treat you the way you deserve.

5 Red Flags To Avoid In A Job Advert
1 – They advertise that you get your own work phone and laptop.
I am seeing more and more work places advertise in the 'perks' section or in the 'benefits' section that you will get your own mobile phone or laptop (and I mean well long BEFORE Corona virus hit).
Now let me ask you this, why do you need a mobile phone or a laptop to do your work? Well that's simple, you'll be taking your work home with you. Unless your job is to be a Jet-set traveller meeting with different clients, or it's strictly for the purpose of working reomtly because of the corona virus pandemic, chances are they will be giving you these items so you can take your work home with you long after you have left the office. This means that the expectation is not only do you work 9-5 during the day, but the expectation will be that you go home and work more hours and probably log in on the weekends.
Needless to say, any company that advertises the fact you will have to be giving them FREE LABOUR as a perk, is a company you want to avoid – AT. ALL. COSTS!
2- They advertise diversity as a perk.
Why is this a thing? Why is a work place with many people with different experiences, ideas and diverse backgrounds a perk? That's a basic need for a successful company. Perks are additional – not basic.
And diversity in a workplace does not in any way mean that it's a great workplace. It could just mean it's a place full of people, from all kinds of backgrounds, who have come together, to all be as equally unhappy, overworked, underpaid and undervalued as each other.
3 – They advertise that you will need to hit the ground running AND that it's a fast paced environment.
All this means is that there will be a lot to do, a lot to learn, and very little training and support provided for you to be able to learn it in a supportive and reasonable time frame. If you do get an interview with a workplace that has advertised this, make sure you ask about the handover and training process, and how long they think it would take to complete this.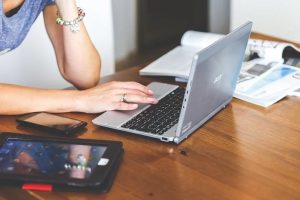 4 – The role being advertised is an administrative support role (secretary, personal assistant, receptionist, office manager, office coordinator, team assistant, project assistant, office assistant) and they require you to have a diploma or official tertiary education AND more than 5 years experience in the role.
Anybody who has been working for years and gone to the effort of putting in the time to study and educate themselves, as well as rack up the debt for this, is not going to want to graduate and work their way up to being someone's stationary coordinator and diary manager. I can't tell you how many jobs advertise 'must have at least 10 years experience and a professional diploma' and it's for a role as basic as Personal Assistant or Office Manager. Seriously, who goes to university or college to simply assist for the rest of their lives?
You do not need to be tertiary educated to be brilliant at any of these roles. I hate to say it, but most of these job adverts are written for men who want a highly educated coffee maker.
5 – You will be required to organise personal life activities for your boss or manager.
If your boss doesn't have time to have a personal work life balance or organise the activities and responsibilities in their own personal life, leaving them to feel it's so bad that it's to the point of having to get someone at work to do that for them – what makes you think they will believe you should have a personal work life balance too? I would NEVER accept a job such as office manager, office coordinator, team assistant, receptionist, executive assistant, or any kind of administration role that requires me to manage personal life affairs. The only exception to this is a personal assistant role, and even then, it needs to be within specified set hours and the adequate renumeration. You deserve to be living and organising your life on the weekend – not someone else's !
Written by Jane Taylor